Introduction
A baby's birth is a wonderful occasion filled with pleasure and love. It's a time when families get together to celebrate the newest member of their family. One of the most touching ways of remembering this momentous occasion is to hold a baby naming ceremony. Along with the joy of this occasion comes the responsibility of making a unique baby naming ceremony invitation that not only educates but also expresses the significance of the occasion.
Choosing the Perfect Baby Naming Ceremony Invitation Design
The design of your baby naming ceremony invitation is important in setting the tone for the event. It should be visually pleasing and consistent with the chosen concept. Whether you want a traditional, modern, or themed design, make sure it fits your family's style and values.
Examples of card Formats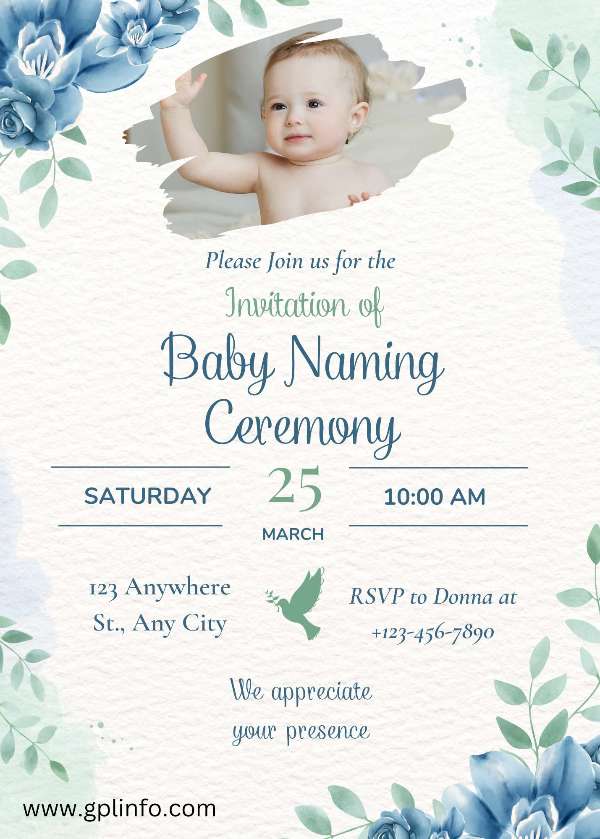 you can customize your card Click Here

for Baby Names Idea Click Baby Names List
Add Text Examples Invitation Guide
Dear [Relative's Name],
We are thrilled to invite you to a special moment in our lives as we celebrate the naming of our precious child!
Please join us for a baby naming ceremony as we officially introduce our little one to our family and friends.
Date: [Date]
Time: [Time]
Venue: [Venue]
Our baby has brought immeasurable joy into our lives, and we would be honored to have you share in this important occasion with us.
Your presence will make this day even more memorable, and we look forward to your blessings and well wishes for our child.
Kindly RSVP by [RSVP Deadline] so that we can make the necessary arrangements for your comfort and enjoyment.
We can't wait to see you and celebrate this beautiful moment together.
Warm regards,
[Your Names]
Important Information to Include in Your Invitation
To design an informative invitation, include the following details:
Date and Time: Make it clear when and where the ceremony will take place so that visitors may plan their calendars accordingly.
To avoid confusion, provide the place with a complete address.
Creating a Meaningful Message for Your Naming Ceremony Invitation
The content on your invitation should express the significance of the event as well as the feelings of your family. To get started, consider the following sample message:
"We would like to invite you to join us as we celebrate an important moment in our lives – the naming of our precious baby." This ceremony holds a special place in our hearts, and we would be honored to have you join us for this momentous day. Your presence and blessings mean everything to us, and we can't wait to meet our little one."
Organizing Your Baby Naming Ceremony RSVPs
Include an RSVP deadline to help you plan efficiently. Request that your guests answer by a certain date so that you may make the required seating, food, and other logistics arrangements.
Making Your Invitation More Personal
Make your invitation more personal by including a family photo or a baby image. Consider including an important sentence or verse that speaks to the values and traditions of your family.
Including Additional Ceremony Information
If your ceremony includes unusual elements or conforms to specific cultural or spiritual traditions, consider including a brief message informing your guests. This will aid in their preparation and participation.
Sending Invitations Before of Time
Send out your invitations at least 4-6 weeks before the ceremony date to give your guests enough time to plan. This allows them to RSVP and make any required arrangements.
Summary
The invitation is the entry point to this lovely celebration, so put your heart and soul into it. Remember, this is more than simply an announcement; it's an invitation to share in a momentous moment in your family's journey. Make it meaningful, attractive, and, most importantly, uniquely yours.
Remember that your baby naming ceremony invitation is also an occasion to show your family's love and warmth as you welcome your new baby into the world. A sincere and invitation will ensure that your special occasion is shared with those who matter the most.